Stopwatch Maps Gets "Muddy" In Texas


3·29·2004

Stopwatch Maps, a leader in mapping technologies and data solutions, now offers the assignment of Municipal Utility Districts – referred to as "MUD's" – as an addition to the Taxography Property Tax Geo-Referencing Service. "Right now, we're able to provide this information for two counties in Texas : Fort Bend and Harris" says Matt LaMartina of Stopwatch Maps. "Each year, these districts give tax professionals a headache because they're difficult to identify. In Harris County alone, there are over 700 MUD's in addition to School Districts , Cities, Townships, and Villages. Some of these MUD's, like Pecan Park in Harris County , are less than 1/10 of a square mile in size."

For tax departments, knowing which districts their sites fall into before filing their returns makes a huge difference from a budgeting standpoint. Matt explains, "In Texas, companies are required to file their return to the county – which, in most cases, isn't that daunting of a task. However, later in the year, when the tax bills start piling up, tax departments soon realize that, not only does their site fall within Harris County, but also the Southeast Harris Census County Division, the La Porte ISD, the City of La Porte MUD, and the City of La Porte – each with their own rates. From a billing perspective, this is tough to plan for; that's one reason our service is so popular – we provide this information upfront, before the return is filed."

Using the Taxography Geo-Referencing Service, tax departments simply send their site address information to Stopwatch Maps. The data is then sent through a series of spatial programs designed to scrutinize each address with the intention of assigning a latitude/longitude coordinate. Once assigned, the sites are then placed on a digital map and, using the core functions of geographic information systems (GIS), analyzed to determine the various jurisdictions surrounding each site. This information is then appended to each record and sent back to clients within 48 hours ready for use with their property tax software.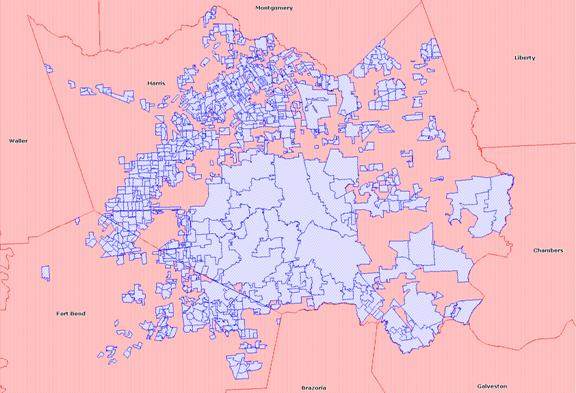 Map of Fort Bend and Harris Counties . MUD's are blue.
For more information about Stopwatch Maps and the Taxography Property Tax Geo-Referencing Service, contact Matt LaMartina at (800) 348-6277 or matt@stopwatchmaps.com or visit our website at www.stopwatchmaps.com.