Software
Multimedia Training CD

DESCRIPTION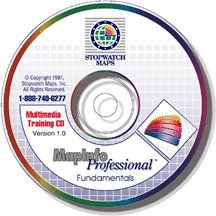 With Stopwatch Maps' Multimedia Training CD you will learn MapInfo Professional quickly and easily. No matter what your level of computer experience, this fundamentals training CD can help you become an effective MapInfo user in less time than you'd ever imagine. In addition to learning how to use MapInfo, we'll show you examples of how MapInfo is being used within business applications. Learn from an expert. Stopwatch Maps is a MapInfo Authorized Training Center. We've used our experience to develop a training CD that wastes no time in getting to the heart of MapInfo usage.

After completing this course you will be able to

Work with MapInfo's map, graph and tabular views of your data.

Use workspaces to retrieve predefined views.

Understand and use map layers.

Assign latitude/longitude coordinates to (geocode) your database of addresses.

Perform basic queries and geographic searching of maps and data.

Create thematic maps to see distinctions in your data.

Use basic map layout functions to prepare and print maps.

The training CD consists of thirteen lessons
00. Getting Familiar with MapInfo
01. MapInfo Windows
02. Manipulating Map Views
03. Open Table Fundamentals
04. Mapping in Layers
05. Understanding Workspaces
06. Manipulating the Browser View
07. Manipulating the Graph View
08. Using Other Data Files
09. Finding Objects
10. Creating Points
11. Geocoding
12. Thematic Mapping

Each lesson has four subsections:
Features and Topics: gives you a brief outline and explanation of the material covered by the lesson.
Benefits and Applications: provides you with a practical example of how the concepts covered can be used in the real world of spatial data mapping.
MapInfo Lessons: allows you to learn MapInfo by listening to and watching an expert. Each lesson utilizes full screen video and audio to simulate MapInfo's features and environment. You can control the speed in which you learn by repeating any lesson or part of it until you are satisfied that you understand.
Practice: lets you practice what you have learned by completing the provided workbook exercises.

COMPUTER REQUIREMENTS

IBM Compatible PC with a Pentium 90 MHz or higher processor.

Microsoft Windows 95 operating system

16 MB of RAM

4X CD-ROM drive

VGA or higher resolution monitor

Sound card with speakers

HOW TO ORDER
To order or to learn more about Stopwatch Maps Multimedia Training CD, contact Matthew LaMartina toll free at 1-800-348-6277 or by e-mail at matt@stopwatchmaps.com.

PRICE: $149












:: v&h tools
:: multimedia
training cd
:: MBXVER